Services
AtlasOptimal® – a caring and personalised treatment
The safe and gentle treatment focuses on massaging the short muscles of the neck, in order to relieve tension. AtlasOptimal® treatment is the result of many years of performing physical examinations, during which the palpatory findings according to Swiss-born René-Claudius Schümperli's method have been further developed and refined.
Initial consultation and palpatory findings – the foundation stone of your treatment
Prior to treatment, I will take time to have a detailed discussion with you. I will take an extensive history and consider all your previous illnesses as well as your current symptoms. In addition, I will explain the anatomy of the upper and lower head joints.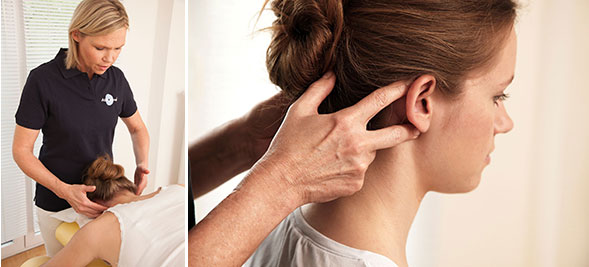 After this, the palpatory examination will take place, to ascertain the exact position of your atlas vertebra. The treatment will then be orientated according to your personal palpatory findings. The palpatory findings are the basis for your tailor-made AtlasOptimal® massage.
The treatment
With the optimised procedure, I adapt the intensity of the massage to the tension in your muscles. In a similar way, the massage is adjusted to the different neck musculature of men and women. Excessive force is impossible: it is automatically prevented by the device used.
The process of self-healing depends on you as well
The aim of the treatment is to stimulate the body's process of self-healing. As part of this process, there may be transient physical reactions, such as tiredness or tension in the neck and back muscles. These symptoms can appear immediately after the treatment or they may not appear until several weeks or months later.
We recommend that you pay close attention to your body, noting any changes, with dates, and that you help the self-healing process with regular neck and back massages as well as baths.
Services provided
1st appointment: In-depth consultation, palpatory examination and atlas correction
2nd appointment: Individualised supportive massage and follow-up
Charges for two appointments:
Adults – €220.00
Babies, children and young people up to and including the age of 15 – €160.00